In 2014 Biotope was invited to take on the UK distributorship of the worlds leading animal microchips made by Trovan. Trovan are the microchip of choice for a vast number of zoos around the world and pet animals on every continent. Their technology is chosen by megacorporations for tracking equipment in F1, drums of food stuffs, and chemicals, because of their phenomenal reliability.
Click on the logo to learn more.
Technical summary
TROVAN FDX-B transponders are available in two configurations:

ISO 11784/85 standards compliant.

The ID-162 FDX-B Standards Compliant Series features transponders with factory pre-programmed 15-digit ID codes. These transponders are read-only transponders with an unalterable ID code. Our standard, off-the-shelf configuration features the TROVAN manufacturer's code.
Designed especially for animal identification.

ISO 11784/85 FDX-B compliant.

Bio-compatible glass encapsulation.

Pre-sterilized and ready to use.

Individually packaged in a disposable single use syringe.

Each transponder comes with 6 ea. adhesive labels showing ID number in barcode and numeric format.
Which chip
The mini chip has a superb read range and is proving so easy to use because of the smaller needle we are recommending it is the chip of routine choice. If you have dogs with very thick heavy coats then the larger standard chip is best to get that little extra read range but the mini is ideal for shorter coated breeds.

It is also well established that the smaller chips migrate less.



Regular chips
ID-162B Animal Implantable Transponder with Needle
Mini Chips
ID-162B/1.4 Animal Implantable Transponder Mini Chip with Needle


Syringe Implanters
Reusable syringe style implanter IM-200 and IM-200/1.4 for the Mini chip
Training courses
To be able to purchase chips Industry requirements are that you must have an implanters code ID i.e. be registered as having received training.
The course takes approximately 4 hrs.
You will be asked to bring 1-3 animals for microchipping. You are welcome to bring a handler/observer but they will not be trained unless you book training for both.
After a short explanation about the chip and its placement, you will use dummy equipment to 'get the feel for chipping'. Once you are happy with this you will chip your animals under the supervision of the vet and trainer.
At the end of the course when you have demonstrated to the vet and trainer that you can safely microchip, you will be given a signed certificate and registered with an implanters code.
The course will be supported with on line information as a 'refresh' when you need it.
Pet chip databases
In the UK, there are now about 10 - far too many!
However, some of these databases are located abroad, operating call centres with little or no local knowledge about the UK. Three are 'company owned' and may therefore use data to promote other products and services - ie sending out advertising material.
We endorse the Petlog database which is the biggest and is maintained in the UK by The Kennel Club. Petlog operate 24/7, are based in Aylesbury and are Founding members of the of the European Pet Network, which means that if you lose your pet in mainland Europe you still have a very good chance of being reunited with it.
Petlog run and promote Microchipping Month every June.

www.europetnet.com
or
www.petmaxx.com
and key in the microchip number.
Scanners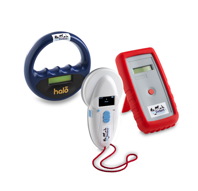 petDetect stock three scanners from the halo (ideal for pet owners) the petscan more sophisticated and ideal for routine use in rescues and the Universal Scanner which readers all microchips used in animals around the world.
Scanning technique
The design of hoop scanners like the halo and the petscan mean that they detect over a greater area when used with the hoop flat against the body. They can be tured through 90degrees for greater depth but then the area scanned is much smaller.
Always scan the whole dog, TAKING YOUR TIME. Our record is finding 4 chips in one rescue dog because previous implanters had done a poor job checking the whole dog!