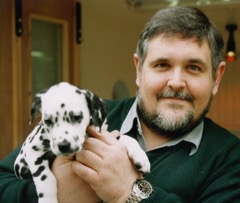 We have considerable experience working with film and TV producers who want to use animals in productions, ensuring best practice for trainers and well planned, safe secure filming. We can offer a welfare/risk assessment prior to shoots and attendance through shooting.
Peter has worked in this industry since 1984 on the BBC series 'One by One' and since then on countless ads, minor animal appearances in film and TV. He has received credits for 'Link', '101 Dalmatians', '102 Dalmatians', 'Fierce Creatures' and 'Fly Boys'.

He was responsible for the veterinary care of the Harry Potter owls and has successfully worked for producers to bring animals into UK and work even whilst under rabies quarantine.

All of these projects placed great demands on animals and Peter is proud to have worked on them with some of the best animal coordinators and trainers in the world who always worked to make the whole experience enjoyable for the animals as well.
Welfare and safety planning (for both animals and crew) are specialist areas and require industry knowledge.

Working with dangerous wild animals such as lions and tigers also requires experience and planning and often specialist equipment such as firearms and darting equipment to be available in the case of emergencies - this is all available through Biotope.